The statue of 12th century Indian Philosopher "Basaveshwara
The statue of 12th century Indian Philosopher "Basaveshwara" who pioneered the idea of democracy was erected on the bank of River Thames, in the London borough of Lambeth.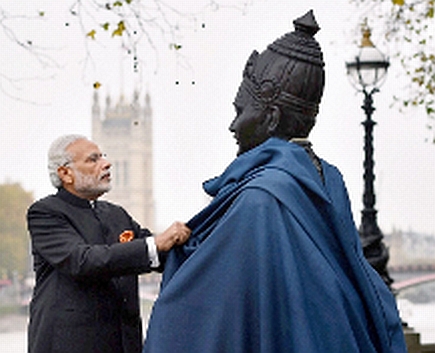 Prime Minister Narendra Modi, unveiled the granite bust of 12th century social reformer Basaveshwara on the banks of river Thames in London on 14th Nov 2015. Describing the unveiling of the statue as a memorable incident in his life, Modi said wherever there is any discussion on democracy and Constitution, examples of Western countries are quoted. But very few know that Basavaveshwara advocated democratic values and prepared the ground for gender equality and empowerment of women in the 12th century, he added.
The Hon Prime minister expressed his special tributes to the 12th century philosopher and said he is a great admirer of Basaveshwara and his teachings.
Former mayor of London Borough of Lambeth and community medical doctor, Neeraj Patil, had conceived the idea of having a statue in 2011 and with the support of the Asian and Pakistan communities there secured the approval for its installation. Tumakuru mutt seer Shivakumar Swami laid the foundation stone for it in February 2013. Soon after Modi unveiled the bust, Patil told the media: ``I am relieved. This is not just my dream, but of all devotees of Basaveshwara.''
Considering the conceptual relationship between United Kingdom and Basaveshwara the British cabinet minister for culture Jon Penrose approved the planning application to install the statue of Basaveshwara along the bank of River Thames on 3rd July 2012.
Basaveshwara shares a conceptual relationship with Britain because he preached British values of Democracy, freedom of speech, equality of opportunity and tolerance way back in the 12th century and the Speaker of British Parliament Hon John Bercow paid tribute to Basaveshwara in the British Parliament and said,
Its amazing and extraordinary that Basaveshwara professed, campaigned and advocated genuine democracy, human rights, gender equality way back in the 11th century even before anyone in United Kingdom had even thought about it. (Rt Hon John Bercow on Basaveshwara, 21st of Jan 2013.)
Basaveswara's statue will be the second Indian statue approved on the basis of conceptual relationship to Britain after Buddha. The other Indian leaders statues that have been approved and installed in London are that of Mahatma Gandhi, Jawaharlal Nehru and Rabindranath Tagore.