| | |
| --- | --- |
| Inscriptions of Guru Basava (1134-1196) | |
*
The following inscriptions contain references to Basava. Basaveshwara.
1. Kannanur inscription of Hoysala Someshwara, dated 1251 A.D. There is reference to Karasthala Basavideva, i.e. Basaveshwara, along with other devotees named in this epigraph. The attribute Karasthala is significant.

2. Hiriyuru inscription of Hoysala Narasimha-III, dated 1258-59 A.D. In this record (lines 5 & 7) Basavayya i.e. Basaveshwara is mentioned along with the renowned devotees like Siriyala, Bana, Chola etc…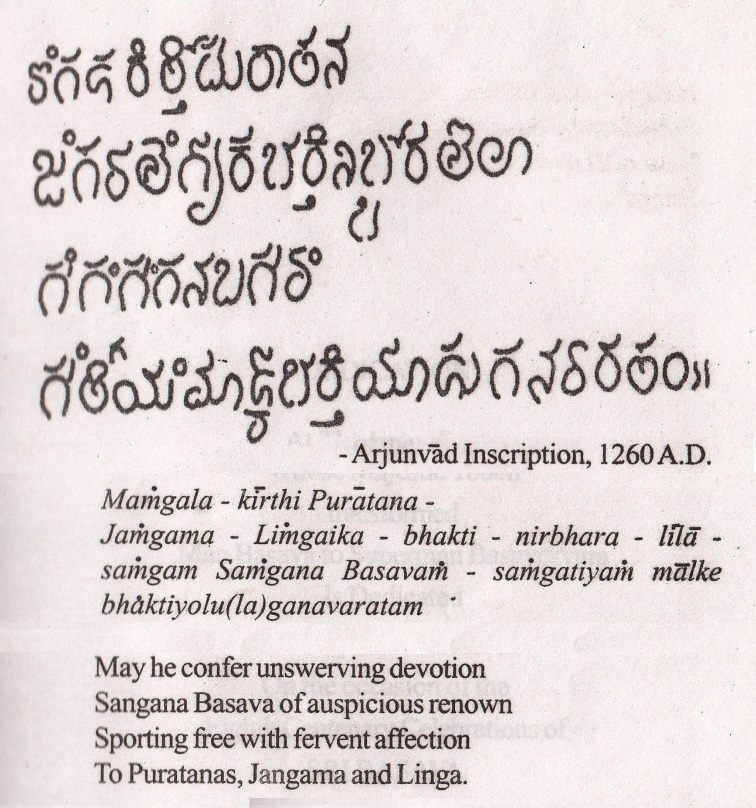 3. Arjunavad inscription of the Seuna king Kannara, dated 1260 A.D. This is one of the important inscription related to Basava and his family details. Names refernces Basavaraj and Sangana Basava.

4. Chaudadanapur inscription of the seuna king Mahadeva dated 1262 A.D. This epigraph mentions Basavayya, son of GOD Sangamesha. This description is in conformity with similar accounts found in the Basavapurana and other Puranas. It indicates Godly eminence of Basava.

5. Another inscription of the same place and of the same date. Sangana Basava is praised in two stanzas of this record, as a fervent devotee of Linga and Jangama , who had attained perfection by the grace of the galaxy of devotees.

6. Maradipur inscription of 1280 A.D. Basava name is references as 'Sangana Basavayya'.

7. Kalledevarapura inscription of Seuna Ramachandra dated 1280 A.D. The name Basavaraja occurs among the great assembly of devotees.

8. Inscription on the boundary stone between the villages of Gudihal and Kuntoji in Muddebihal Taluka, Bijapur District. (14th Century) , Name refrenced is Sangana Basavarajadeva.

9. Jodidasenahalli inscription, dated 1680 A.D. The name reference was 'Basavarajendra'

10. Anandpur Mutt's Copper inscription, dated 1660 A.D. The name reference was Basaveshwara,

11. Kanakanahalli two copper inscriptions,dated 1700 A.D. The name reference was Basaveshwara Swamulu, Kalyanada Basavappanavaru.
Of all the epigraphs enumerated above, the Arjunavad inscription of 1260 A.D. is the most important historical document on Basava, It reveals a number of items of historical import about Basava, his personality and his family.
References:
1. M.M.Kalburgi, Shasangalalli shivsharanaru, Veershaiva Aadhyana Samsthe, Dambala, Gadag1978.
2. C. Nagbhushana, Shasangalu mattu Kannada Sahitya, Prasaraang, Gulbarga University, Gulbarga 2005.
3. Dr. P.B. Desai, Basaveshwara and his times, Basava Samithi, Basava Bhavana Bangalore. 1968.